Following Your Strength and Conditioning Workouts
Click on your strength workout to see which exercises you need to do.
If you are unsure how to perform an exercise, then click the Strength and Conditioning for Runners PDF within the workout.
Search for the exercise and check the instructions, images and videos.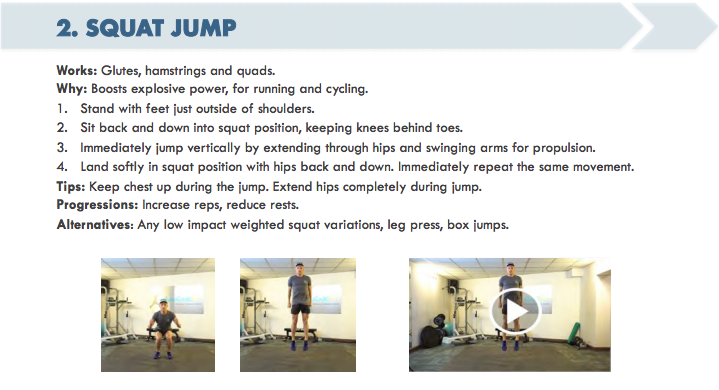 The PDF has written descriptions for each exercise, which muscles are targeted and why, tips, progressions and alternatives. You can adapt and progress sessions gradually according to your training equipment, skill and experience. And if you are unsure about anything, you can always email us.
How do I Record My Strength Session?
Measure HR using your device/HR strap to sync your hrTSS to the workout in TrainingPeaks.
Estimate TSS using the table below and enter the values manually.
​
Why Do Strength and Conditioning?
We have chosen specific strength and flexibility exercises that are key to supporting your run training. They are designed to increase power, range of movement, coordination, flexibility, agility, strength and stability providing you with a solid internal 'scaffold' to support all aspects of your training. You will improve your efficiency which will boost your performance.
Injury Prevention
Including strength and conditioning to your training regime will help minimize the risks of injury through improved strength, stability and by matching imbalances that can be created by repetitive overuse.
What Equipment Do I Need?
All exercises (or alternatives) can be performed at home with a mat, dumbbells and/or band. You can also carry out the exercises in the gym using machines and the free weights area.
When Should I Do Strength Workouts?
There are usually two strength workouts per week. Performing both sessions is ideal; however, if you are time-challenged, then one session is fine. If you have another workout scheduled on your strength day, you should do the triathlon-specific discipline first. When switching things around in your calendar, be conscious of workouts that follow your strength sessions. Don't leave yourself too tired or sore to complete subsequent sessions. For example, avoid a hard leg session before a speed run.
How Will Strength Sessions Fit with My Running Plan?
The strength sessions within your plan progress with each phase of training:
Prep Phase: The goal of this phase is to develop neuromuscular efficiency, stability and functional strength.
Base Phase: In the base phase, your strength workouts are structured to build a foundation for power development. The goal is to translate strength training into sport-specific activity.
Build Phase: During the build phase, your workouts are used to develop power, balance and neuromuscular control. Form is critical, reduce the intensity if you cannot hold good form.
Peak Phase: This phase allows you to focus on sport-specific training. This means decreasing the stress of a strength and conditioning training session by reducing intensity and volume.
Flexibility
There are six key flexibility exercises included. Include these stretches post-training as well as the dedicated time described within the strength and conditioning session. Select stretches that are specific to your needs; the ones described within this document are a guide. You may have some favourites that work well for you.
Copyright MyProCoach™ Ltd © May 2018. All rights reserved.