Cycling Event Pacing Strategies
Learn how to structure your pacing strategy, ready for your upcoming bike event
Cycle events come in many guises, and yours may take anything from one to eight hours, possibly repeated over several days. However long you are riding, and whatever your goals are, it is always good to plan. A good pacing strategy will get you to the finish line just before you completely run out of gas.
1. Rate of Perceived Exertion (RPE)
Gauging your intensity by RPE or 'feel' can be useful for non-competitive and competitive riders alike. It can be used as a stand-alone measure or alongside Power and/or Heart Rate.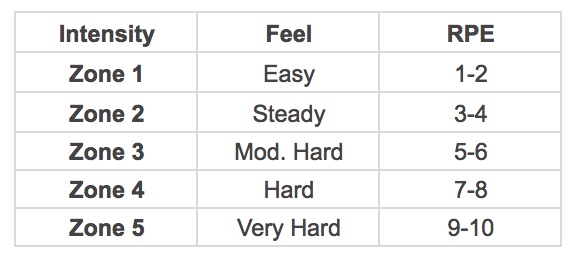 (Note: "RPE" refers to Rate of Perceived Exertion. A measure of feel, where 10 is your hardest effort and 1 is your easiest).
Riders with a goal of completion should stay focused on staying within the effort level appropriate to distance and ability. More competitive riders can use knowledge of past performances over a similar course or distance and be able to roughly estimate what type of effort is possible to push out on race day. However, be mindful that perception of exertion becomes trickier when faced with undulations, wind, other riders and a host of other variables. This is when utilising a power meter comes into its own.
2. Functional Threshold Power (FTP)
Power meters give you an objective measurement, regardless of the variables. The gold standard measure of power is FTP, which refers to your current best effort during a 1-hour time-trial. You will also have gathered information, experience and knowledge in training that will help you understand what you are capable of pushing on event-day. During the event itself, focus on your 3-second average power and keep this close to your overall target power. You will naturally fluctuate above and below your target Wattage, but try your best to minimise this. See the table below for specific guidance.
3. Threshold Heart Rate (THR)
Riding to Heart Rate takes practice and self-knowledge. Your Heart Rate will fluctuate in many situations such as at the start, riding in a group, windy or hot conditions, nutrition and riding an undulating route. While your power output will show you how hard you're working, your heart rate will reveal how hard your body is finding it. In the absence of a power meter (or alongside one), heart rate is a worthwhile measure of intensity for cycle events.
Event Intensity Table (using two or three methods is ideal).
| | | | | | |
| --- | --- | --- | --- | --- | --- |
| Measure | 10 Mile TT | 25 Mile TT | 1 to 3 hrs | 3 to 5 hrs | 6 to 8 hrs |
| RPE | 9 to 10 | 7.5 to 8 | 6 to 7.5 | 4 to 6 | 2 to 3 |
| FTP | 105 to 110% | 99 to 101% | 80 to 98% | 74 to 80% | 66 to 74% |
| THR | 105 to 110% | 100 to 105% | 94 to 99% | 83 to 94% | 70 to 82% |
These ranges are purely a guide and need to be wide for the multitude of variables. If you are a novice rider or your event is non-competitive then look at the low/easier end of the values. For those racing then look at the high end to push for your best performance. Also take into consideration your route, conditions and distance when calculating your strategy.
If you still want some idea of your bike time, you could use www.bestbikesplit.com which includes most cycling events globally.
Final Notes
Ensure you base your event pacing strategy on real results from fitness tests done in the last 8 weeks. DO NOT GUESS!!!
Fitness Tests To Determine Your Thresholds
Your success/enjoyment will be determined by how well you paced throughout the whole event as well as how well you fuel. Check our article for more on Race Nutrition.
Good Luck for your Cycle Event!
Copyright MyProCoach™ Ltd © August 2019. All rights reserved.