Find out how to analyse your running post-race data so you can train and race better in the future.
Finishing Time
The first thing we all do after a race is look at our race finishing time, which can lead you to feel one of three ways:
Over the moon with happiness
Crushingly disappointed

Happy enough, but wondering if I could do more
However, taking your finish time at face value is not always an accurate method of analysis. Unless it is the same race that you have done before with the same conditions, you will never be comparing apples with apples. There are dozens of variables that can significantly affect your time.
The Best Way to Analyze Running Results
1/ You will have used your Threshold Run pace to Determine Your Target Pace for your Race
2/ In TrainingPeaks you can analyse your race by highlighting sections.

Look at the IF (Intensity Factor) for various sections of the race to see if it aligns with your strategy (1 hour at 100% Threshold Pace gives an IF of 1. If your race is a marathon and your target pace is 90% of Threshold then your IF should be 0.90) in particular the first few KM's and check that you paced evenly throughout.
The Intensity Factor also takes into consideration the elevation. Normalized Graded Pace (NGP) is where elevation is taken into account to produce a pace that is your equivalent if the route was flattened.
The ratio of NGP to your Threshold Running Pace (in your settings) produces a relative Intensity Factor (IF).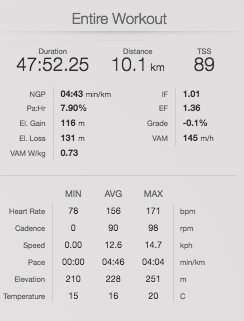 Race analysis is by no means a perfect process because of the sheer number of variables involved. But using recent performance test data is always better than looking at race times in isolation.
You may after an initial disappointment with your race time realise that you actually performed well on the day.

Using recent performance test scores, rather than assumptions will help you stay grounded in reality, giving you a far better idea of how you raced and how to improve in the future.
Conclusions
There are lots of uncontrollable variables that can significantly affect your race results.
Simple fitness tests can provide useful benchmark performance data.
​The level of your competitors will vary from one race to another. You cannot always compare against them.
Copyright MyProCoach™ Ltd © May 2018. All rights reserved.