First of all, determine how you are going to measure your training intensity. 
"Critical Swim Speed" (CSS) is the most specific way to train in the prescribed zones. We recommend you re-test every 8 weeks to ensure you are training at the correct intensity.
"Feel" also known as "Rate of Perceived Exertion" (RPE) can also be used for those who like to keep training straightforward.
This is the order in which you should prioritise them:
Critical Swim Speed 
Rate of Perceived Exertion
For all swim workouts follow the written workout description.
1. Critical Swim Speed
Determine your Critical Swim Speed (CSS) with the fitness test in your training plan
Using our Online Calculator calculate your 5 Training Zones
In Training Peaks:

Click on your name (top right) > settings > zones >speed/pace >swim speed/pace
Enter your CSS as your threshold swim pace
Add your Five Training Zones by clicking "Add Zone" (see video below)
Add your values established using the online calculator
The swim workouts cannot currently be exported to your device, we hope that TrainingPeaks will enable this soon.
Check the video below for how to calculate and add your zones. Please make sure to click the settings icon and play in high-quality.

2. RPE/Feel
Train to Feel or Rate of Perceived Exertion as per the intensities in the table below.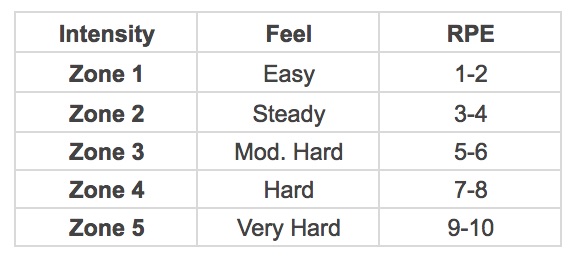 You may be interested to use this table for more on zones. 
Copyright MyProCoach™ Ltd © May 2018. All rights reserved.