One benefit of my training plans is that you can update your latest fitness "threshold" via TrainingPeaks. 
A threshold is simply a repeatable measure of your current fitness.
Adding your latest swim threshold to TrainingPeaks helps you to track your improvements and enables you to create your own accurate training zones.
Once you have a set of accurate training zones, you'll be able to see exactly how hard or easy to swim during your workouts, based on your own current fitness. You can use either Speed or Rate of Perceived Exertion (RPE).  
Personalise Your Swim Workouts
In the first week of your training plan (and regularly after that) there is a fitness test to determine your critical swim (threshold) speed - known as CSS. Once you have completed your test, follow these steps:
Step 1: Use this Online Calculator to determine your CSS.
Step 2: Enter your Swim Threshold (CSS) and Zones into TrainingPeaks.
Step-By-Step
Open TrainingPeaks on a laptop or PC, click on your name (top right) and open your Settings.

From the menu on the left choose Zones and then Speed/Pace.

Add Activity 'Swim' > Add your CSS as your Threshold.

Choose Type Threshold Speed > Choose Method 'MyProCoach Swimming' > Apply.

Save and Close.
Rate of Perceived Exertion (or 'Feel')
Alternatively, you can follow the Workout Descriptions by using Rate of Perceived Exertion (RPE) or 'Feel' as per the intensities in the table below.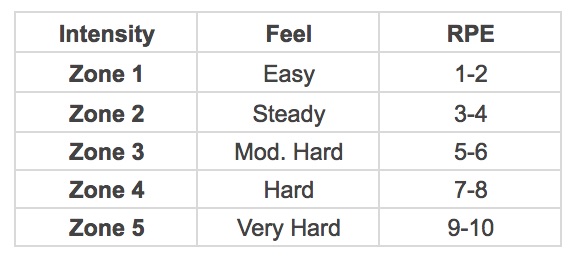 Swim Heart Rate
Measuring underwater heart rate can be inaccurate, although some devices are better than others.
If you feel you have an accurate device, and you want to use heart rate as a backup measure of intensity, then check this article from TrainingPeaks. It details how to set up your Swim Heart Rate Training Zones to allow you to analyse swim data further, post-workout.
Exporting Your Swim Workouts to Your Devices
You can export your pool swim workouts to your training device (such as Garmin, Coros, Suunto and Wahoo). Please check this article from TrainingPeaks to find out more and learn how to set your pool length.
You can set your usual pool length (in yards or meters) as a default in your TrainingPeaks settings, and change in each workout (if needed).
Alternatively, you can print your swim workouts and take them in a plastic sleeve to poolside (a small whiteboard also works).
Copyright MyProCoach™ Ltd © June 2020. All rights reserved.