Strength Plans
When you purchase a MyProCoach race-plan, you can also follow one of Phil's FREE Strength and Conditioning plans. Use the code FreeStrength at checkout to add your chosen plan to your TrainingPeaks training plan library.
Triathlon Strength
Duathlon Strength
Running Strength
Cycling Strength
Which Length Plan?
You can select a plan the same length as your race-plan and set the start date to be the same. However, you should also take into consideration your current ability and experience. Strength plans are progressive, and therefore the longer the plan the easier the starting level. If you are new to strength training and have a short race-plan, we recommend you choose a longer strength and conditioning plan to allow you to progress your strength, safely and gradually over time.
Getting Started
Apply the plan to start on the same day as your race-plan (if you are an Unlimited Athlete, we will do that for you).

Strength sessions start in week two to allow you to feel fresh for your fitness tests in week one.

Check the PDF included within each session for full exercise instructions, progressions, alternatives, and videos.
How do I Fit Strength Sessions into My Training?
You should feel fresh and ready to do your key sessions justice. Check the information below and adjust, as necessary.
Article: Workout Order
Video: Moving Workouts Around
Article: Can I Move Workout Days Around?

Following Your Strength and Conditioning Workouts
Click on your strength workout to see which exercises you need to do.
If you are unsure how to perform an exercise, then click the strength and conditioning PDF within the workout.
Search for the exercise and check the instructions, images, and videos.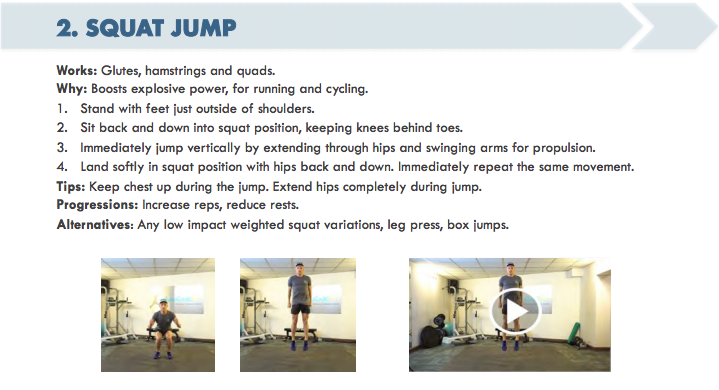 The PDF has written descriptions for each exercise, which muscles are targeted and why, tips, progressions, and alternatives.
You can adapt and progress sessions gradually according to your training equipment, skill, and experience. And if you are unsure about anything, please email us.
How do I Record My Strength Session?
Measure HR using your device/HR strap to synchronize your hrTSS to the workout in TrainingPeaks.
Estimate TSS using the table below and enter the values manually.
​
​
Why do Strength and Conditioning?
We have chosen specific strength and flexibility exercises that are key to supporting your sport-specific training They are designed to increase power, range of movement, coordination, flexibility, agility, strength, and stability and provide you with a robust internal 'scaffold' to support all aspects of your training. You will improve your efficiency, which will boost your performance.
Injury Prevention
Including strength and conditioning to your training regime will help minimize the risks of injury through improved strength, stability and by matching imbalances that can be created by repetitive overuse.
What Equipment do I need?
All exercises (or alternatives) can be performed at home with a mat, dumbbells and/or band. You can also carry out the exercises in the gym using machines and the free weights area.
Article: Can I do Strength Sessions at Home?
How does my Strength Plan progress?
The strength sessions progress with each phase of training:
Prep Phase: The goal of this phase is to develop neuromuscular efficiency, stability, and functional strength.
Base Phase: In the base phase, your strength workouts are structured to build a foundation for power development. The goal is to translate strength training into sport-specific activity.
Build Phase: During the build phase, your workouts are used to develop power, balance, and neuromuscular control. Form is critical, reduce the intensity if you cannot hold good form.
Peak Phase: This phase allows you to focus on sport-specific training. This means decreasing the stress of a strength and conditioning training session by reducing intensity and volume.
Flexibility
There are six key flexibility exercises included. Include these stretches post-training as well as the dedicated time described within the strength and conditioning session. Select stretches that are specific to your needs; the ones described within this document are a guide. You may have some favourites that work well for you.
Copyright MyProCoach™ Ltd © June 2022. All rights reserved.