Duplicated Workouts
It sounds like your Training Plan is applied twice in your TrainingPeaks calendar. Check the short video for how to correct:
On your PC go to the Calendar View
Click on the Training Plan Library (the little folder on the left of the plan)
Click on your Plan that you are training with
Check the 'Applied Plans Box' (see screenshot below)
Remove any unwanted applications.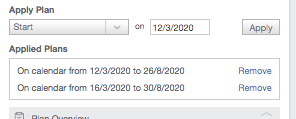 Copyright MyProCoach™ Ltd © May 2018. All rights reserved.