Step One: Set your default pool length in TrainingPeaks
Log into TrainingPeaks on your PC.

Click your name in the top right and choose 'Settings'.

From the left-side menu, click on 'Equipment'.

Choose or enter your pool length (in yards or meters) and select as default.
Press

'Save and Close'.

Step Two: Sync your watch to Garmin Connect
Sync your device to the Garmin Connect App. Your chosen default pool length will then be applied to all your swim workouts for you to follow on your watch.
Step Three: Follow your structured swim workout
Lap Button
Press the lap button after every 'active' set.

The lap button should

only

be pressed to end your current set and your watch will vibrate to tell you that you are in the final length of each set.

Pressing the lap key will automatically start the next active set or rest interval.
For example -

2 x (50 Pull in Z2 + 50 Pull in Z4) + 20 sec rest:

Press 'lap' after the 50 Pull in Z2 and start swimming again immediately.
Press 'lap' after the 50 Pull in Z4 and you will enter the rest period.

At the end of a rest period, you will have a 5-second countdown before the start of the next active set.
See the example screenshot below. The red dots denote when you should press the lap button: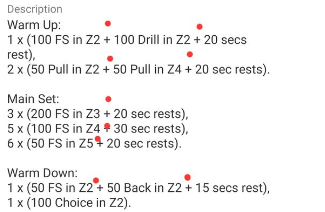 Recording Drills
When performing single-arm drills using your non-watch arm, or kick sets, Garmin has no way of knowing you are swimming as it relies on the movement of your watch-arm.

For drills, you will need to count your laps and press the lap button when your set is complete.

Distance will not be recorded for kick sets or non-watch arm single arm work. You can edit your workout distance post-swim in TrainingPeaks to include this.
Ending your Workout

Your watch will enter a free swim cool-down mode (as it would at the end of a run workout).

If you have accidentally pressed the lap button at the wrong time and skipped a set you can make up the missed lengths during this period.

At the end of your workout, press the lap button twice to end the session.
FAQ and Troubleshooting
What if I need to swim in a different size pool occasionally?




Click on your scheduled swim workout and change the pool length under 'equipment'.

Click Save and Close.

Sync your watch with Garmin Connect to transfer the changes.

My completed swim distance is different to that planned?


Check your pool length in TrainingPeaks (see instructions above).

If you swim in a yard pool, in the heading of your planned workout, you will see a slightly longer distance represented as yards (1 meter = 1.094 yards). It won't match the total distance in the description (written for meter pools), learn more here.

The duration in TrainingPeaks is different to on my watch?

Only your 'moving time' will sync back to TrainingPeaks and not the total time, which includes rest periods.




Why was my pool length was incorrect?

Double-check your default pool length - remember to click 'Save and Close'.

Sync your watch with Garmin Connect before you swim to transfer the changes to your watch.

Check the pool length setting on your watch.

Can I follow the swim workouts on my Garmin in open water or in an infinity pool?

No, open water and infinity pool activities aren't supported.

Structured swim workouts can only be followed using the Pool Swim activity in Garmin, and with a pool length entered in your TrainingPeaks settings.
Additional Information
Learn more about following your swim sets.
Check this article from TrainingPeaks.
If you prefer, you can print your swim workouts and take them in a plastic sleeve poolside (a small whiteboard also works). Your workout will sync with TrainingPeaks for you to analyse post-session.
Copyright MyProCoach™ Ltd © March 2022. All rights reserved