Connect your Polar Flow and TrainingPeaks Accounts
The newer Polar devices use Polar Flow AutoSync via a one-time connection to transfer completed workout data directly into TrainingPeaks. To check if your device is compatible please check this information from TrainingPeaks.
Sign in to your Polar Flow account
Click on your name in the top right corner and select "Settings"
Click the "Connect"

button right beside TrainingPeaks (see screenshot below).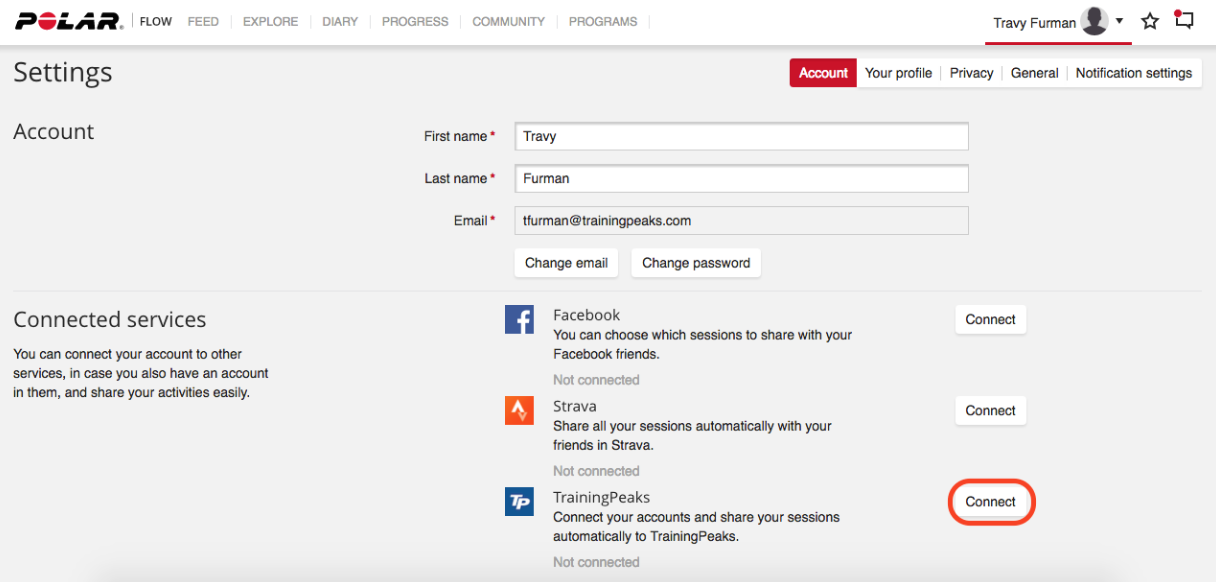 Once you've clicked "Connect" the "Allow access: TrainingPeaks" window will open.
Click "Connect".
Log into your TrainingPeaks account on a laptop or desktop computer.
Click "Allow" (see screenshot below).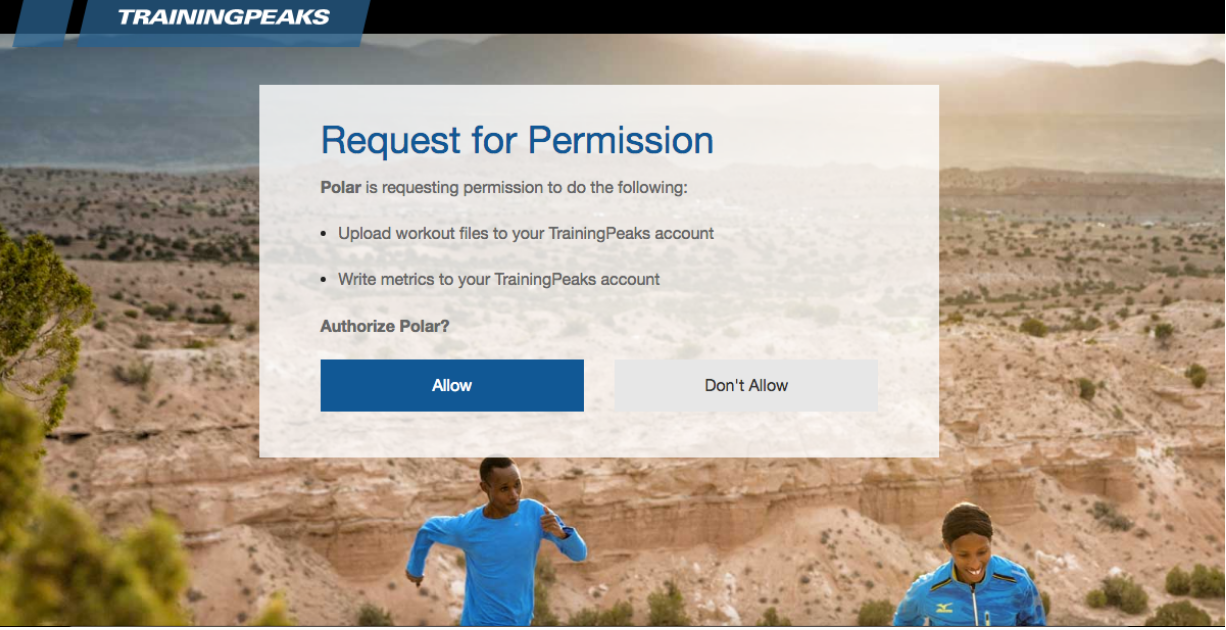 Once you have completed the above steps, your browser will return to Polar Flow and an "Account connected!" message will appear. Any future workouts recorded on your Polar device will now sync automatically to TrainingPeaks.
Please use this link for further information from TrainingPeaks on syncing Polar devices and your TrainingPeaks account. And this link from Polar.
Historical Workout Data
Any historical training data you already have saved in Polar Flow can also be transferred into TrainingPeaks via Polar Flow's Export function. Please see this information from Polar on how to transfer this data.
Exporting Structured Workouts to Polar Devices
You will not be able to export the structured run and bike workouts in your training plan to your Polar Watch. We hope that TrainingPeaks and Polar will make this possible soon.
You can still follow your workouts using the Workout Description and record the activity with your Polar device. Once you've completed a workout it will then automatically upload to TrainingPeaks.
Alternatively, you can manually recreate the workout in Polar Flow and then export to your device.
Setting up your Training Zones on your Polar Device
Once you've completed your Fitness Test(s) and determined your 5 Training Zones it's important to ensure that the Training Zones on your Polar device match. You can edit your zones in Polar's Flow web service. To do this:
Login to the Flow web service
Click on your name in the upper right-hand corner.
Select "Sport Profiles" and the specific sport profile you want to edit.
Your Training Zones can be updated under the "Speed/Pace Settings".
After editing your zones, sync them back to your training device via Polar FlowSync.
Copyright MyProCoach™ Ltd © February 2020. All rights reserved.