How to Connect your Suunto Device to TrainingPeaks
In the Suunto app:
iOS: Go to your Profile > Connect to other services and connect to TrainingPeaks.
Android: Go to Settings > Connect to other services and connect to TrainingPeaks.
Log into your TrainingPeaks account.
Allow Suunto app to connect to your TrainingPeaks account.
(Please see screenshots below).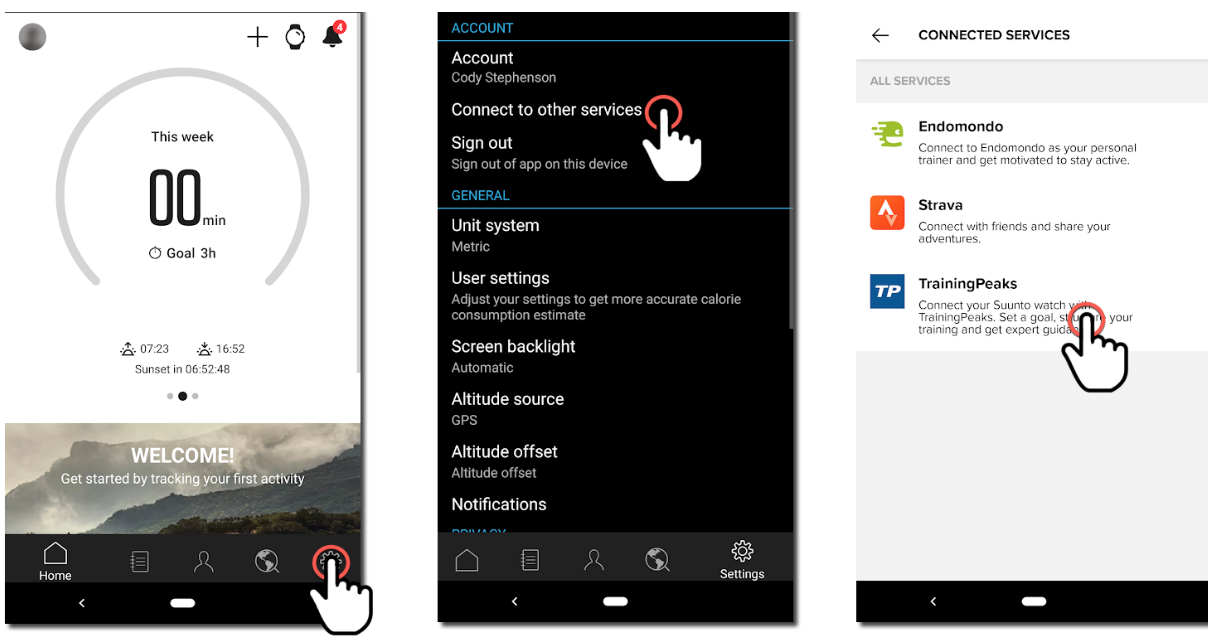 Once you have made this one-time connection, the next workout you sync with the Suunto app will be automatically transferred to TrainingPeaks.
Exporting Structured Workouts to Sunnuto Devices
You will not be able to export the structured workouts in your training plan to your Sunnuto Watch. We hope that TrainingPeaks and Suunto will make this possible soon.
You can still follow your workouts using the Workout Description and record the activity with your Suunto device. Once you've completed a workout it will then automatically upload to TrainingPeaks.
Alternatively, you can manually recreate the workout in Suunto Movescount and then sync this to your device.
Setting up your Training Zones on your Suunto Device
Check that your Training Zones on your Suunto device are the same as in your TrainingPeaks settings. You can edit your zones directly on your Suunto device. The instructions on how to do this depend on the model you have. Please check the Suunto User Guide for your device where you will find specific instructions. You can find all User Guides here.
For any other questions regarding your Suunto watch and data synchronization with TrainingPeaks, please refer to Suunto's FAQs. Or you can visit TrainingPeaks here.
Copyright MyProCoach™ Ltd © February 2020. All rights reserved.