Connect your Garmin Device(s)
Making a one-time connection between your Garmin device(s) and TrainingPeaks allows you to automatically sync completed activities. You will need to authorize TrainingPeaks to access your Garmin Connect account:
Log into your TrainingPeaks account and navigate to

Garmin Connect AutoSync

.

If setting up the AutoSync for the first time, select to either sync past activities or just new completed workouts going forward.
If you have previous activities in Garmin Connect and a new TrainingPeaks account, select "Connect and Sync" under "I have past activities in Garmin Connect".
If you don't have previous activities in Connect or you have already imported them manually then select "Connect my Accounts" under "I'm Starting Fresh".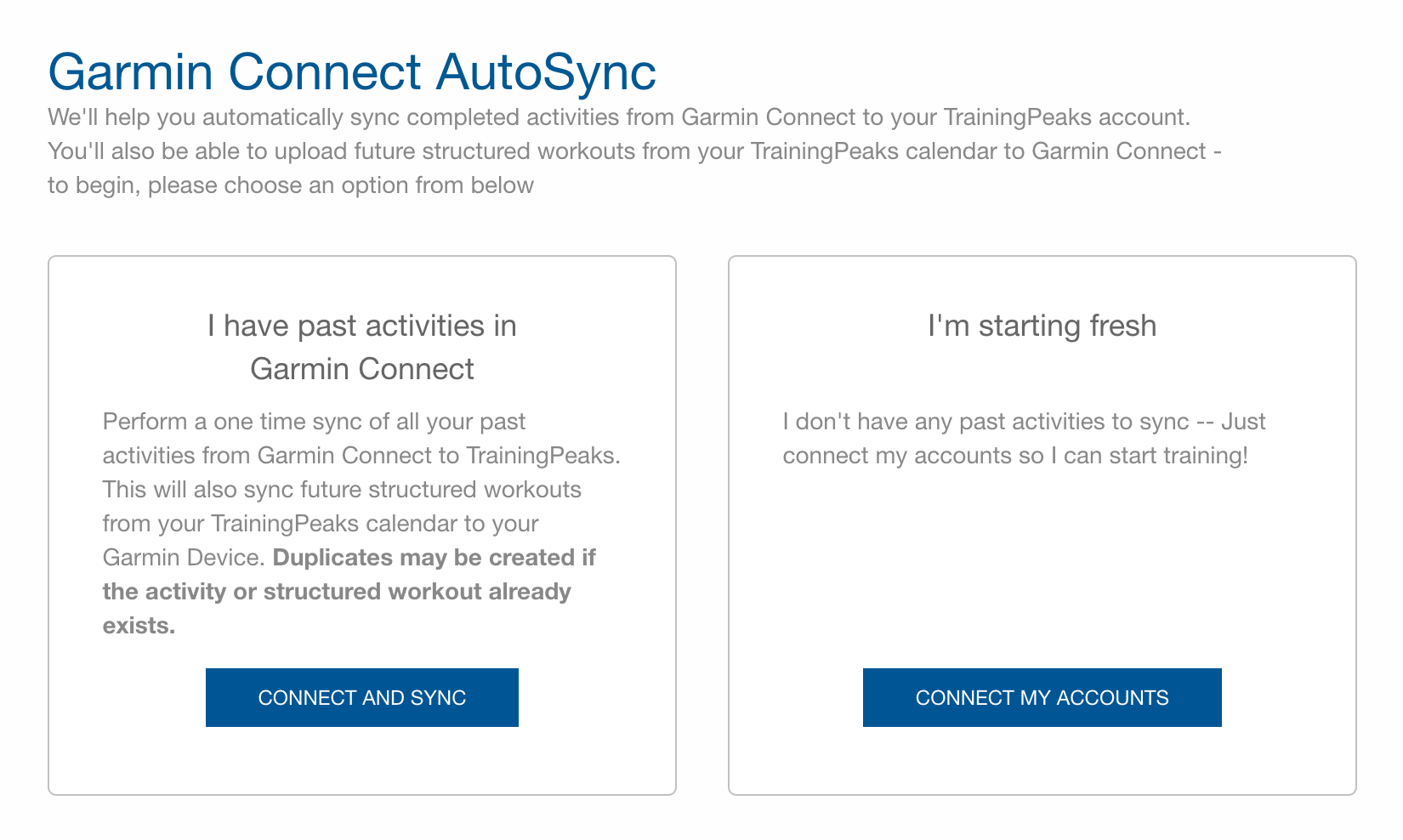 Your future completed workouts will now automatically sync to your TrainingPeaks account. And the next 5 days planned workouts will appear in your Garmin Connect calendar. The Garmin Connect icon (see screenshot below) shows the workout is in your Connect calendar.
Please note, if you select to sync historical workouts, they will not sync to TrainingPeaks until you upload a new activity. Historical workouts can take up to 7 days to sync to TrainingPeaks. Do not disconnect your accounts during this time as you will not be able to attempt the history sync again.
For further information, please check this article from TrainingPeaks.

Exporting Structured Workouts
The swim, bike and run workouts in your plan are created using the Workout Builder function in TrainingPeaks. This enables you to export these workouts to your Garmin device.
Exportable workouts are based on a % of your Critical Swim Speed, Threshold Run Pace or bike Functional Threshold Power (FTP). These workouts can only be exported to speed (swim), pace (run) or power (bike).
1. Export for Compatible Devices
The easiest way to load your structured workouts to your Garmin device(s) is to use the Garmin Connect Calendar Integration. TrainingPeaks have a published list of compatible devices here, by their own admission, it's only a partial list. If you are considering a new device, check the specifications carefully.
2. Manual Export for Non-Compatible Devices
For older Garmin devices, you can still add the workout files directly to your device (but not via Garmin Connect). To do this:
Log into TrainingPeaks and select the bike or run workout you want to export.
Click on the "Export" icon in the top right of the workout detail.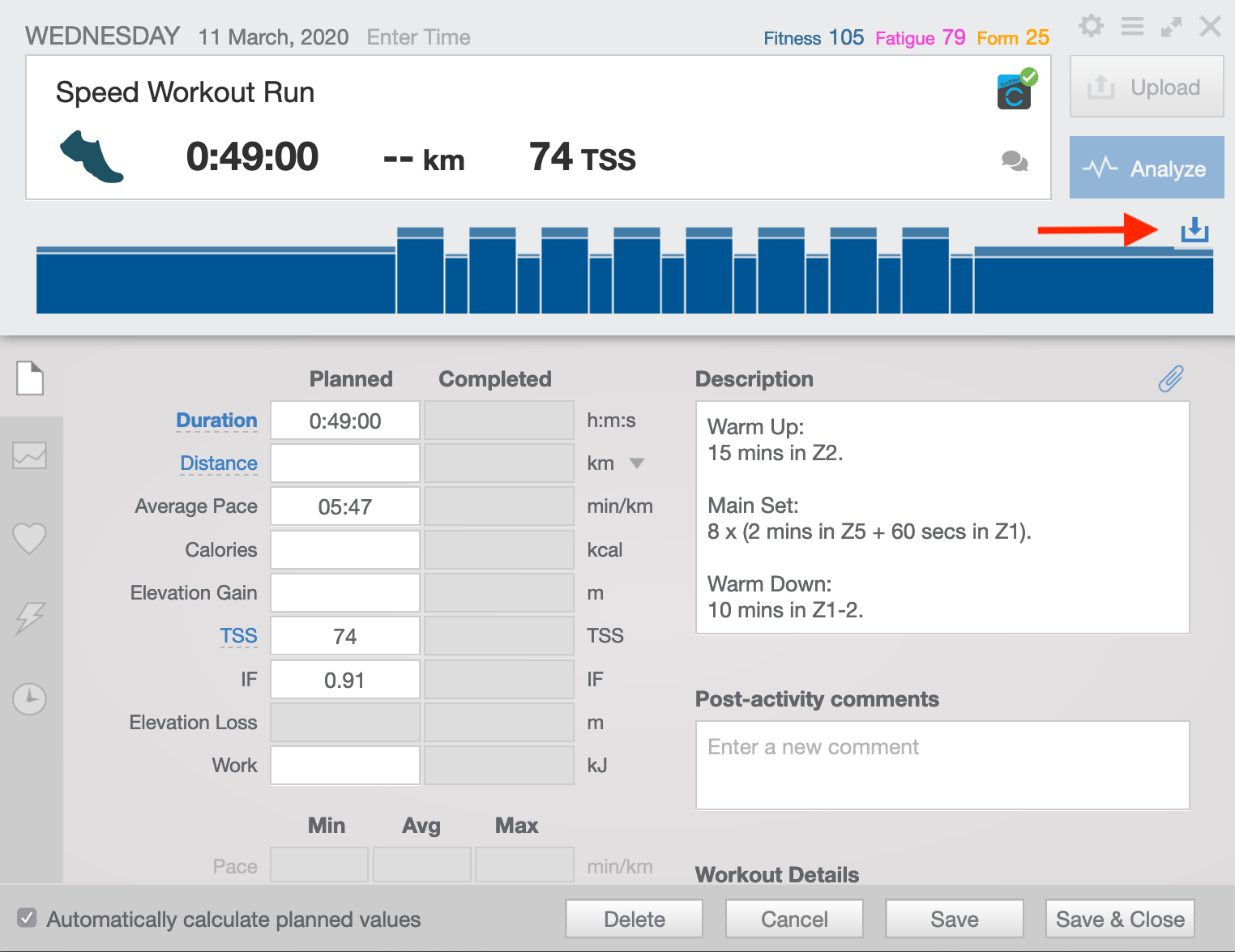 This will take you to the following screen where you select FIT file.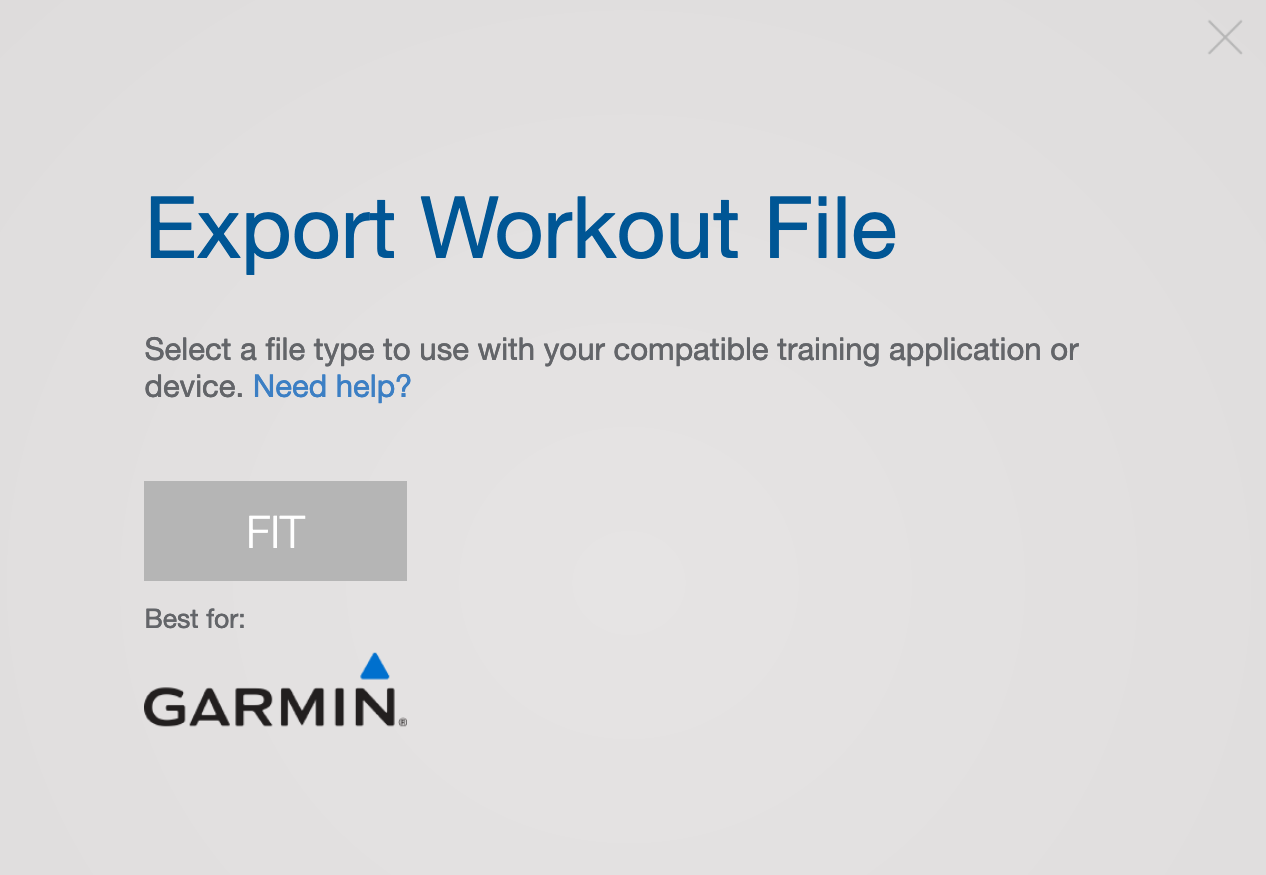 Save the file on your PC and plug your Garmin device to your PC via a USB data cable.
Open the Garmin device folder and then open "New Files".
Copy your TrainingPeaks .FIT workout file into the "New Files" folder (some devices may require you to place the file directly in the "Workouts" folder).
You should now see your workout under Training > Workouts > Workout Title. If you don't see it immediately you may need to restart your device.
You can add multiple workouts depending on the available memory in your device. Delete old workouts to free up memory space.
Training Zone Settings in Garmin Connect
You will need to add your training zones to your account settings in Connect. These should match those in your TrainingPeaks account. To check your Training Zone Settings in Garmin Connect and make changes:
Log into your

Garmin Connect account.

Go to the top right-hand corner and navigate "Device" icon > "Devices and Sync Status".
Select your device and then "User Settings".
Scroll down to Heart Rate Zones and select "% of LT" (for run and bike).
Enter your Threshold Heart Rate (as recorded in your TrainingPeaks account) and then enter your lower Zone 1 heart rate value in the 1st box, followed by your upper heart rate values for each Training Zone in the remaining 5 boxes.
This will ensure that the Garmin Training Zones correlate to your 5 TrainingPeaks Training Zones.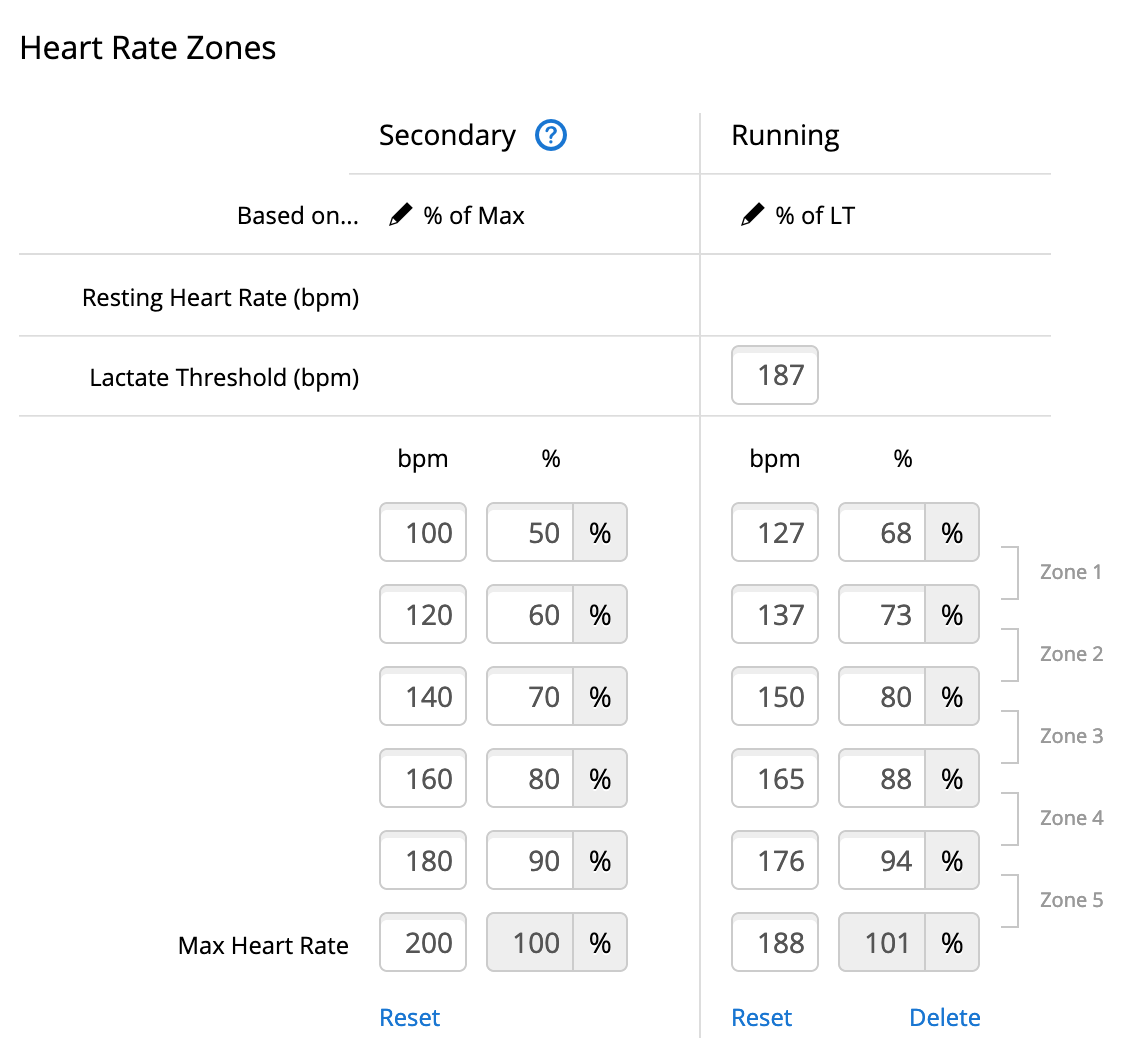 You will need to perform the above steps for each Garmin device you use.
To make changes to your Power-based training zones on a bike specific device, follow the steps above but scroll past the Heart Rate settings to "Power Zones".
Your FTP should match the value recorded in TrainingPeaks.
Each time you complete a Fitness Test in your plan, check and update your device Heart Rate and Power settings to avoid conflicting and confusing post-workout metrics! Make sure that you sync your device back to Garmin Connect each time you update your Training Zones.
For further information and assistance on syncing your Garmin and TrainingPeaks accounts please refer to this TrainingPeaks web page and for information on exporting structured workouts this web page.
Copyright MyProCoach™ Ltd © February 2020. All rights reserved.