Connect your COROS and TrainingPeaks Accounts
Making a one-time connection between your COROS app and TrainingPeaks allows you to automatically sync completed activities. You will need to authorise TrainingPeaks to access your COROS account:
1. Ensure that your COROS app is updated to the latest version
2. Open your COROS app and click the 3rd icon on the bottom of your mobile device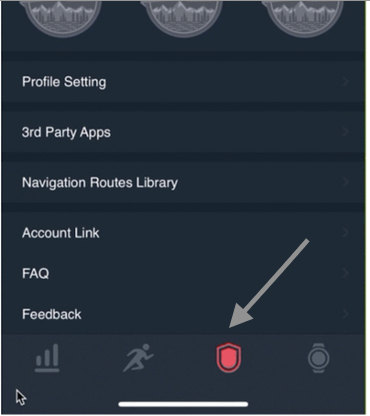 3. Click '3rd Party Apps' > 'TrainingPeaks'
4. Enter your TrainingPeaks athlete login credentials and 'Allow' when prompted
5. A pop-up window will appear saying 'Connection successful'
All future completed workouts recorded on your Coros device will automatically sync to your TrainingPeaks calendar.
NB: Workouts completed before you connected accounts, will not sync to TrainingPeaks
Export Planned Workouts
Swim, bike and run workouts in your plan are structured using the workout builder in TrainingPeaks.
These can be exported to your device for you to follow in real time as you train using Critical Swim Speed (swim), Power (bike) and Pace (run).
You can access the next 7 days of planned swim, bike and run structured workouts from your TrainingPeaks calendar (including today).
Access your workouts on your device
Open the COROS app.

Your TrainingPeaks calendar will show in the COROS app (Training Plans section).

Select 'Start Training Plan' to send the next 7 days of workouts to your COROS watch.

To make changes in your TrainingPeaks calendar (e.g. swap days around), you will need to manually sync the changes to your COROS app via the "refresh" icon in the top-right of the TrainingPeaks plan section of the app (screen 3 below).

Every time your watch syncs with the COROS app, it will receive the updated training plan from your TrainingPeaks calendar.
Check the steps in the COROS app:

Training Zone Settings in COROS
You will need to adjust the COROS default training zones to match your personal training zones in your TrainingPeaks account. These can be customised via the COROS Training Hub, in your EvoLab settings. The COROS Training Hub is a web-based system (you can't edit your training zones via the app).
For further instructions on how to do this please reference the COROS Training Hub Manual
Each time you complete a Fitness Test in your plan, check and update your training zone settings in the COROS Training Hub to avoid conflicting post-workout metrics.
For further information and assistance on syncing your Coros and TrainingPeaks accounts please refer to this TrainingPeaks web page and for information on exporting structured workouts COROS Support Page.
Copyright MyProCoach™ Ltd © May 2022. All rights reserved.